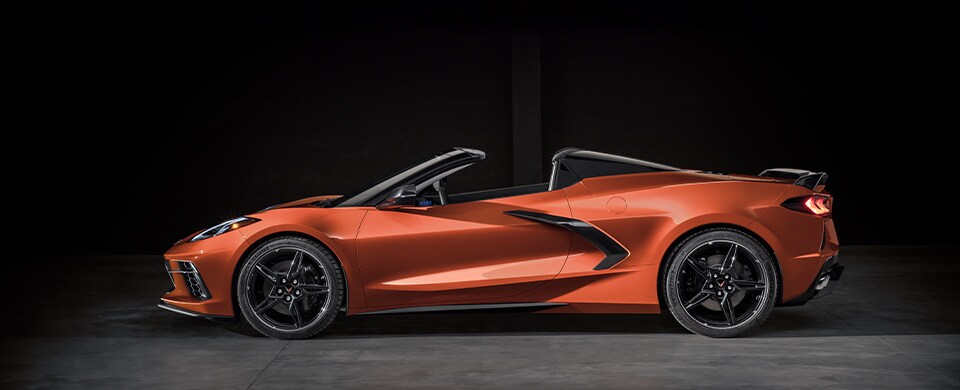 The newest Chevrolet Corvette has been introduced to the 2020 market, and it is making a big splash! Since it was first introduced 67 years ago, it has been the epitome of elegance, sophistication, and power. Here at Malloy Chevrolet, we are thrilled about the newest 2020 Corvette models and can't wait to tell you all about them. The 2020 Chevrolet Corvette is a precision sports car that will turn even a simple drive to the grocery store or office into a world-class driving experience. With three trim levels to choose from, all of which are available as a convertible, you will undoubtedly find the 2020 Chevrolet Corvette that meets your every need and desire. You can choose from the 2020 Chevrolet Corvette 1LT, the 2020 Chevrolet Corvette 2LT, or the 2020 Chevrolet Corvette 3LT. For even more panache, you will want to go with the available Z51 performance package. Each one of these trim levels is unique and extraordinary, and all of them exude true reflections of time-honored, expert craftsmanship. The knowledgeable staff at your local Chevrolet dealer is anxiously awaiting the arrival of the new 2020 Chevrolet Corvette, and we can't wait to experience it with you!

If elite performance is what you are seeking, the 2020 Chevrolet Corvette Stingray is the ideal sports car model for you. You will be captivated as soon as you press the accelerator, thanks to the all-new 6.2L LT2 V8 engine that delivers 495 horsepower and 470 lb.-ft. of torque, making the 2020 Chevrolet Corvette Stingray the most powerful Corvette model ever created. This vehicle is equipped with a standard dry-sump system for cutting-edge ability even when G-forces are high in tight corners, has been architectured to sit lower for enhanced handling, and also features continuously variable valve timing. If you are seeking even more vim and vigor, you will want to select the Z51 performance package, which offers Michelin® PS4 Performance 3 Season tires**, a standard FE3 Performance Suspension, and a larger rear spoiler, which provides up to 400 lbs. of downforce. Your new 2020 Chevrolet Corvette Stingray will provide you with precise shifting due to its lightning-fast standard dual-clutch transmission, which combines the smoothness of an automatic with the heart-pounding action of a manual. The highly-trained team at your local car dealership in Winchester VA will answer any questions that you may have so that you select the right model for your driving needs. Another great available option is the Magnetic Selective Ride Control™.  This is a real-time damping system that reads the road every millisecond and can adjust in under 15 milliseconds. This system utilizes an innovative suspension containing metal particles that align and become instantly rigid, giving you the freedom to push even harder while staying one with the road. Here at Malloy Chevrolet, we have the red carpet ready and will be rolling it out very soon for the arrival of this magnificent sports car model.

The new 2020 Chevrolet Corvette Stingray is full of beauty and brawn, but it has brains to boot! This sports car model is a true work of art, with its aerodynamic lines blending form and function. When you slide into the driver-oriented cockpit, you will be greeted by a streamlined design and sumptuous materials. Intuitive instruments keep you focused, while GT1 seats wrapped in Mulan leather are standard on the 2020 Chevrolet Corvette 1LT and the 2020 Chevrolet Corvette 2LT trim levels, providing you comfort and support, even on long-distance drives. The GT2 seat features carbon-fiber trim with a seatback halo and is wrapped in genuine Napa leather, and it comes standard in the 2020 Chevrolet Corvette 3LT trim level. You will always stay connected while on the road with the Chevrolet Infotainment System touch-screen display, which allows you to send and receive text messages, listen to your favorite music, and more. Your new 2020 Chevrolet Corvette is compatible with both Apple CarPlay™ and Android Auto®, even further improving your connectivity. Front lift technology will raise the front of your Corvette nearly two inches in less than three seconds when traveling at speeds of 24 MPH or less, allowing you to easily clear low obstacles such as speed bumps or steeply inclined driveways. The 2020 Chevrolet Corvette Stingray is an unmatched performance vehicle that is fully equipped with state-of-the-art safety technology. You can drive with confidence, knowing that the all-new body structure is more than 10% stiffer than the previous generation, which contributes to a smoother ride and confidence-inspiring handling. The new 2020 Chevrolet Corvette Stingray is a truly rhapsodic sports car model, and everyone at Malloy Chevrolet wants you to stay in touch with us so that we can let you know the moment that it arrives!
Hours
Monday

9:00 am - 8:00 pm

Tuesday

9:00 am - 8:00 pm

Wednesday

9:00 am - 8:00 pm

Thursday

9:00 am - 8:00 pm

Friday

9:00 am - 8:00 pm

Saturday

9:00 am - 7:00 pm

Sunday

11:00 am - 5:00 pm
Ask About The 2020 Chevrolet Corvette